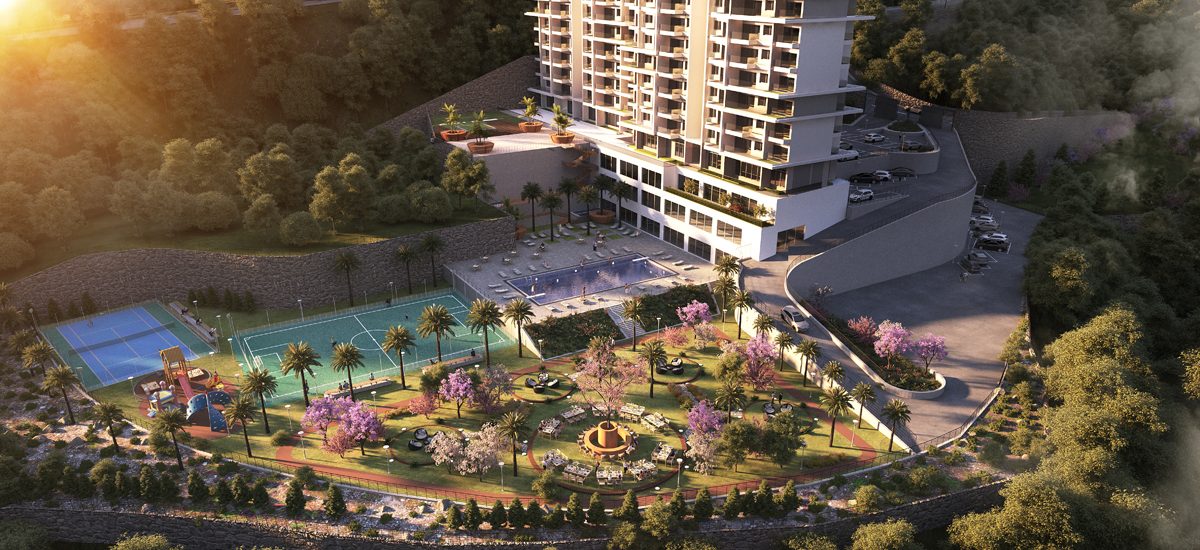 Located in the district of Alley, "Madares Area" where top schools in Lebanon are located, "View Bchamoun" offers unrivaled views of both Lebanon's picturesque mountain scenery and dazzling sea views, in the heart of an alluring town. The tranquil atmosphere is ensured by the area's elevation of 300 meters above sea level. Mountain greenery and ocean blues become the colours and views residents at "View Bchamoun".
A State of The Art Compound
Bchamoun maintains the perfect proximity to the hustle of Beirut, all that while achieving a relaxing atmosphere.
"View Bchamoun", a state of the art residential and commercial compound, embraces every aspect of exceptional living by offering unparalleled facilities and features on lush garden grounds. The nine individual modern buildings and 144 immaculate apartments available with stunning mountain and sea view are complimented by the numerous walkways and bikeways encircling the grounds.
Countless facilities such as basketball, football, and tennis courts, outdoor swimming pool and Jacuzzi, high-tech gym, children's playground and nursery, as well as an inclusive shopping complex and 24h supermarket, make for a fulfilled and distinct living experience. "View Bchamoun" is the pinnacle of modernity, convenience, serenity and pleasure, offering every desire imaginable.
144 Apartments & Vast Green Grounds
"View Bchamoun" offers sole shortcut entry to Aramoun as well as the fastest access to Beirut and Rafic Hariri International Airport, ensuring ultimate convenience to all residents. The vast green grounds become the perfect landscape to house all 144 apartments, distributed into 9 different sleek buildings, A1, A2, B, C1 and C2 on the upper part and D1, D2, E1 and E2 on the lower part with on site water wells and power plant. The options are varied at "View Bchamoun", with residents having the choice between: 280 sqm apartments, 200 sqm apartments,
171 sqm apartments, 135 sqm apartments.
Countless Facilities & Features
"View Bchamoun" has ensured a multitude of options to better suit every resident and no expense is spared in using the highest quality products for the completion and finishing of all apartments.
As for the stimulating side to the complex, the commercial space
is located on the upper lot, constituting a ground floor and mezzanine.
Four basement floors are available for parking and storage.
Cafes and restaurants will also be able in order to maximize the
friendly and lively environment "View Bchamoun" aims for.
Here are the amenities: 24 hours security, 24 hours cleaning service, ample parking space, on site shopping complex, outdoor swimming pool, high-tech gym, football field, basketball court, tennis court, children's playground; BBQ area, lush gardens.
"View Bchamoun" Not To Be Compared
"View Bchamoun" exceeds the typical residential compound by providing countless facilities and features on breathtaking property, making it the ultimate location for serenity and pleasure.
The buildings are of modern architecture fully designed to comply with and exceed earthquake requirements and standards, fire, safety elements and regulations. "View Bchamoun" is just not to be compared. As for the stimulating side to the complex, the commercial space is located on the upper lot, constituting of 2 floors. Spaces are available from 55 sqm to 180 sqm and the prices start from 1250$. For more information, call 00961-78877777